2019 Komshine's trip to Korea
With the opening of the domestic 5G commercial market and the large-scale implementation of the deployment of fiber-to-home network in the asia-pacific region, the optical communication industry has ushered in a new development opportunity. As one of the important partners in the foreign market, Komshine has been focusing on quality cooperation, so that brand agents can operate without worry, to adapt to the new situation of high-precision optical fiber construction operation.
This week, Komshine went to Seoul with new products, optical fiber measurement and optical fiber splicing products, and held a product promotion meeting with local engineers and dealers.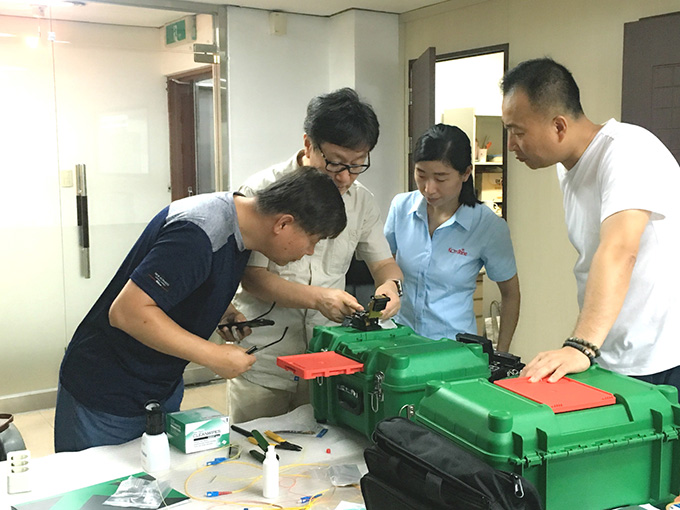 In the meeting,first of all, our engineer make brief introduction of a series of products of the company, including new KFI - 40 fiber identifier, fusion splicer GX37 , OTDR QX70 etc., and make interpretation of the function points for each product and site operation, such as power meter's using the REF key reset and manual calibration, mini visual fault locator normally on and flashing , pen type used and the red light when the optical fiber bending effect, optical interface detector and cleaning pen, etc., and let the local agents deepen the impression of the product via the practical experience.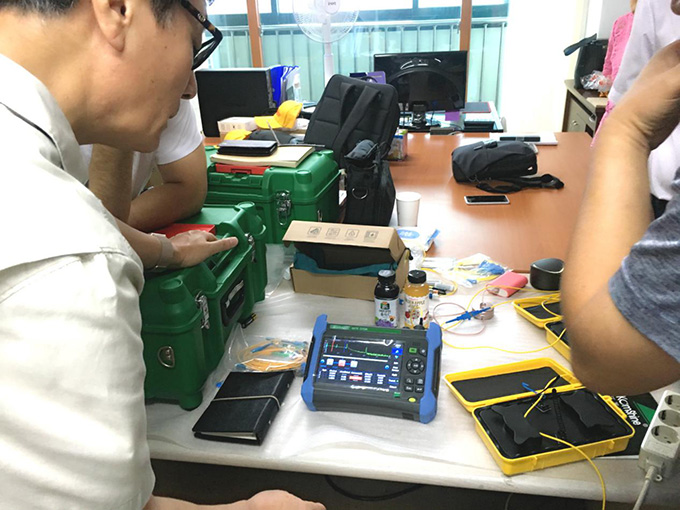 Meanwhile,optical fiber identifier KFI-40 and fushion splicer were highly favored.
KFI-40 is a high-precision optical fiber signal identification device. It adopts four-in-one universal fixture design and can be applied to 0.25/0.9/2.0/3.0mm optical fiber. Single-mode & multi-mode optical fiber is universal, and can recognize 270Hz, 1KHz and 2KHz signal frequencies. The recognition frequency is accompanied by beeping prompt sound, and the appearance design of two-color is very visual. How to conduct fiber optic signal detection? Hold the instrument, press the index finger on the back clamp switch, clamp the optical fiber line, and automatically start the test. When there is a signal, the left and right directional lights will light up.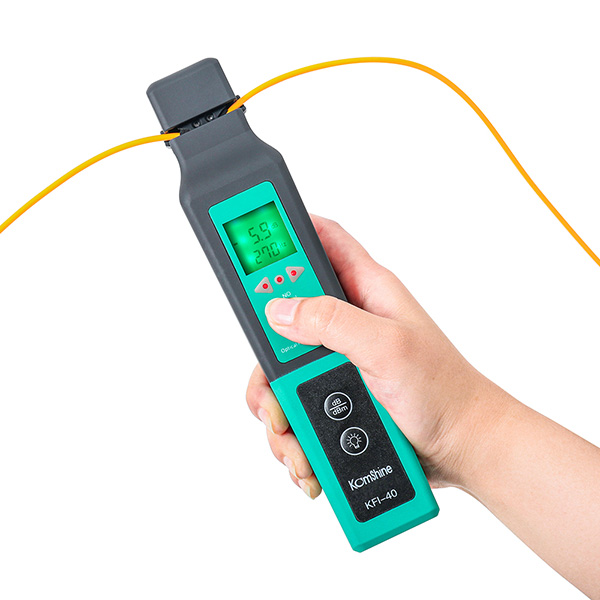 GX37 was the classic model of the 5th anniversary of Komshine in this promotion meeting, Our engineers explained how to daily maintenance and cleaning of the machine, on-site demonstration of how to correctly regulate the operation of it, how to debug it, how to replace the accessories. GX37 can reach 8s fast splicing, 20s fast heating, average loss is 0.01dB, efficient welding and low loss. It is equipped with industrial-grade four-core chip, fast response, 5.0-inch LCD display, clear GUI interface, simple operation; 5200mAh recyclable lithium battery, up to 200 times of continuous welding, comprehensive silicone sheath, effective anti-fall, waterproof, dust proof.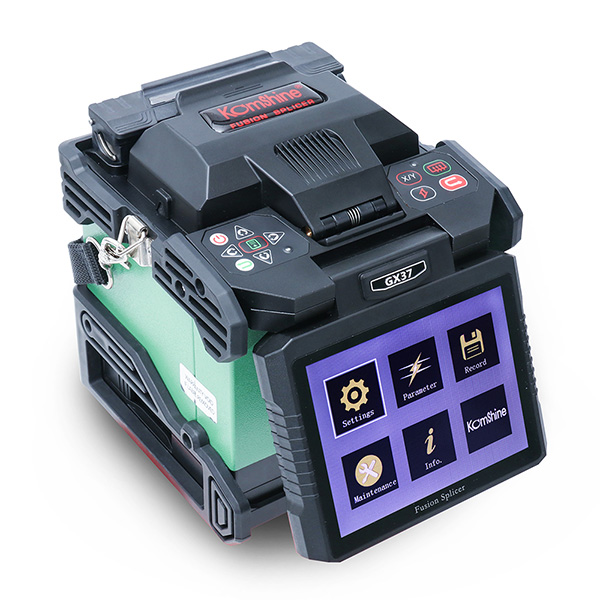 Komshine optical communication technology CO., LTD. is a high-tech enterprise specializing in the research, production and sales of optical communication products, mainly optical fiber measurement, optical fiber splicing, end cleaning and other series of products, has been widely used in communication, radio, television, railway, research institutes and other fields.
The trip to Seoul not only deepens the cooperation relationship with local dealers, but also helps to further develop overseas marketing, demonstrating the strong strength of Komshine as a professional optical communication manufacturer.