For the cable layout, with FX39 is enough
The great era of "Internet of Everything" has arrived. The network world connected by optical fiber covers more and more. Our work and life are increasingly inseparable from the convenience brought by optical fiber networks. As one of the builders, optical engineers use fusion splicers to connect optical fibers to facilitate the construction of network systems in various regions, ranging from trunk lines and metropolitan area networks to security monitoring and FTTH projects, covering a wide range. At this time, a splicer that can cover all these workloads is particularly important. As a professional manufacturer in the field of optical communication in China, Komshine focuses on the research and development of optical communication product technology. Based on the FTTH optical fiber fusion splicer GX39 produced in the early stage, it is widely acclaimed. The six-motor backbone fusion splicer FX39, ranging from trunk line to small to installation and maintenance, is a complete package!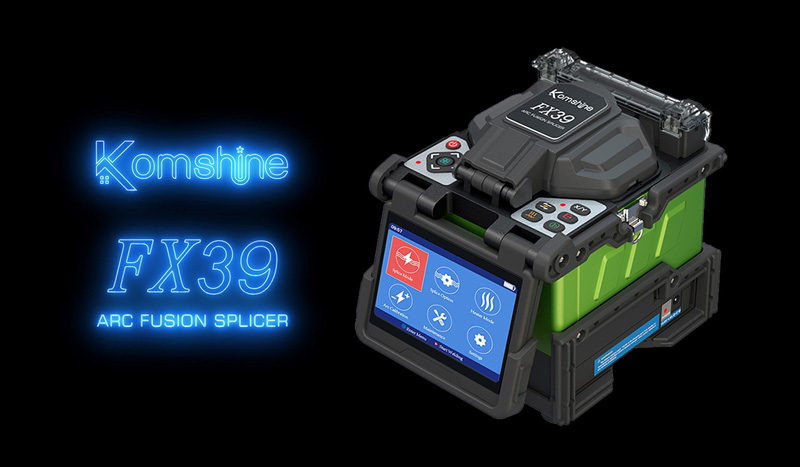 Komshine FX39 six-motor trunk splicer adopts a green body design, which brings a fresh atmosphere to your welding work, and is compact and easy to carry. FX39 is suitable for single-mode, multi-mode, chromatic dispersion, non-zero dispersion and other fiber types. It can splice fibers with a cladding diameter of 80-150μm and a coating diameter of 100-1000μm. It has 128 sets of fusion splicing modes. It is widely used in trunk lines, metropolitan area network engineering construction, security monitoring construction, installation and maintenance engineering and FTTH engineering, covering a wide range, strong usability, and excellent performance.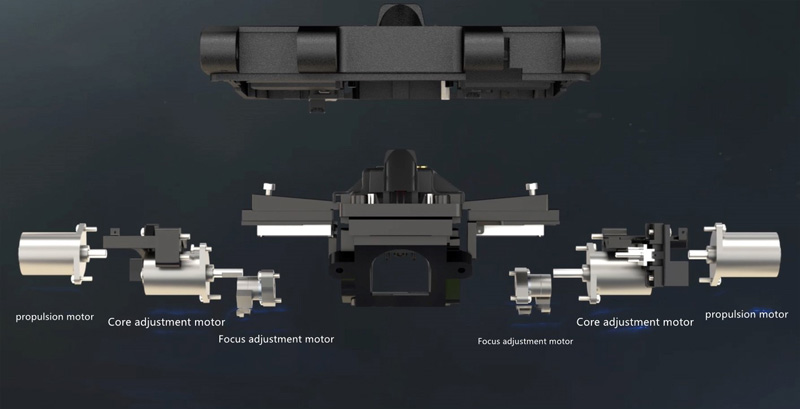 FX39 adopts the "six-motor positioning system". The fusion splicer is equipped with six motors and stable micro-step guides. Compared with the four-motor positioning efficiency, the positioning efficiency is increased by four times. The splicing loss is smaller and the speed is faster. Precision focusing motor, fiber alignment is stable and precise, and the splicing is more perfect.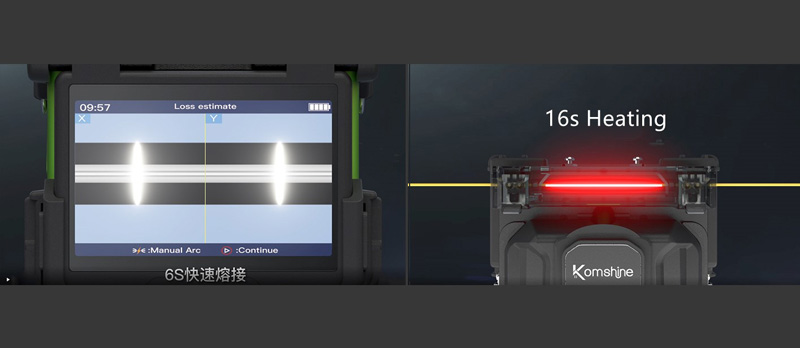 Speed is the key point, but also the highlight! Komshine FX39 six-motor fusion splicer can achieve 6s fast splicing, 16s rapid heating, the speed is a new level; the average splicing loss is 0.01dB; the electrodes can achieve 5000 discharges and has a longer life, also equipped with a pair of spare electrodes; the heating tank adopts a replaceable SOC fixture, the fixture design is firm, and the auxiliary heating is more stable.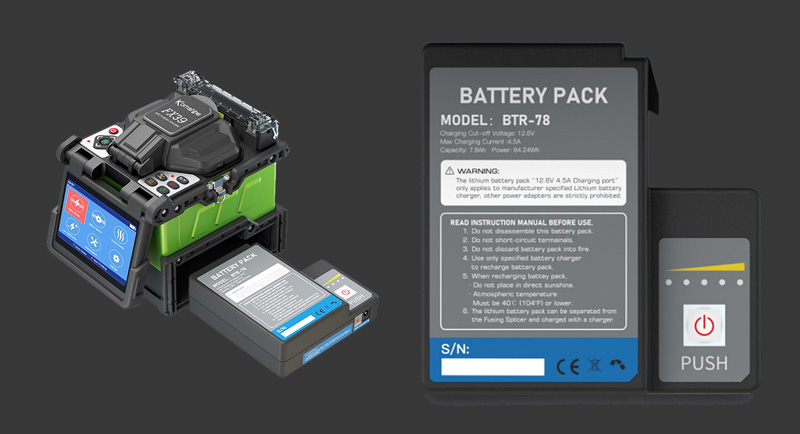 FX39 is equipped with a large-capacity lithium battery of 7800 mAh, which can be welded and heated 400 times in cycles, and can be disassembled at any time for fast and convenient charging. At the same time, Komshine has added a new design to this lithium battery. After the battery is removed separately, the user presses "PUSH "Button can display the battery level when the device is not installed, which is convenient for users to charge flexibly.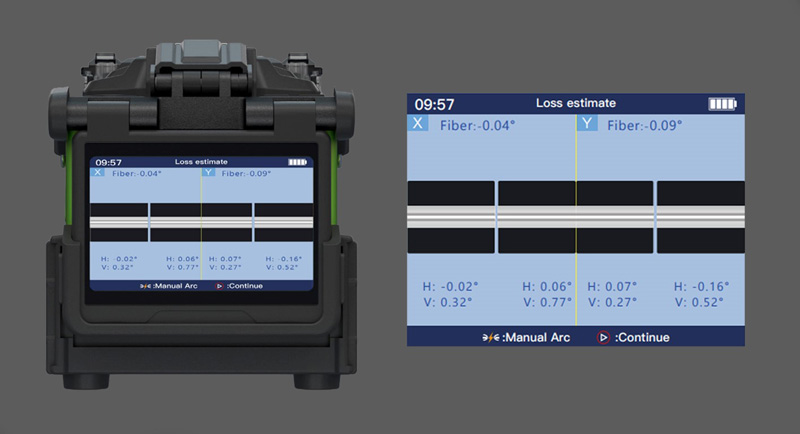 FX39 uses a 4.3-inch high-resolution color LCD display to provide users with wide-screen, high-definition fiber core display images. The fiber core is clearly visible through the application of fiber core alignment technology, and the splice loss and core alignment process are clear at a glance. At the same time, it adopts industrial-grade chips to achieve perfect synchronization operation and fast response speed. It can store 10000 sets of welding results and 2000 sets of images. The USB interface is designed for convenient data download.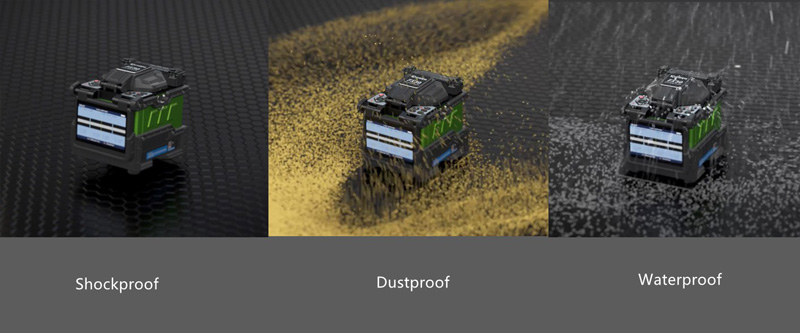 The FX39 body protection design is preset for users to solve the problems that may be encountered in various construction environments. The body adopts a soft and flexible silicone sheath to adapt to various harsh natural weather and complex construction sites. It can withstand collisions from all angles and has excellent shockproof, dustproof and waterproof functions.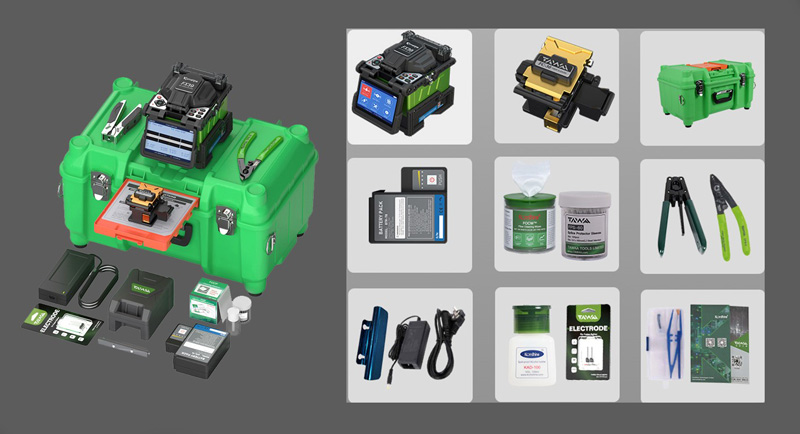 Komshine and TAWAA Tools have become close strategic partners. Each FX39 is equipped with TAWAA FC-30 fiber cleaver, fiber stripper, cable stripper, fiber cleaning paper, and heat shrinkable tube. The FX39 fusion splicer is equipped with a 7800 mAh lithium battery, spare electrodes and cooling tank as standard. The FC-30 cleaver adopts high-precision cutting blades and stable and smooth slide rails, which can realize one-step operation of cutting optical fibers. The design of the fiber breakage recycling box can effectively avoid waste fiber pollution and facilitate users to clean up. At the same time, FC-30 cleavers are equipped with Special protective box with precise internal slot size, cutting knife can be firmly embedded, carrying case is made of high-density plastic material, which can effectively prevent falling, dust and water.
The multifunctional carrying case of FX39 can be used as a workbench, turning into a portable and compact working area anytime and anywhere. The removable red tray in the picture above can be placed in the top slot of the carrying case, or it can be hung into the side of the case lid. The cutting knife is placed to facilitate users to perform instant and integrated fiber splicing operations. The carrying case also has enough storage space to store and protect your splicing tools and auxiliary tools. The non-fixed card slot design does not limit the brand and model.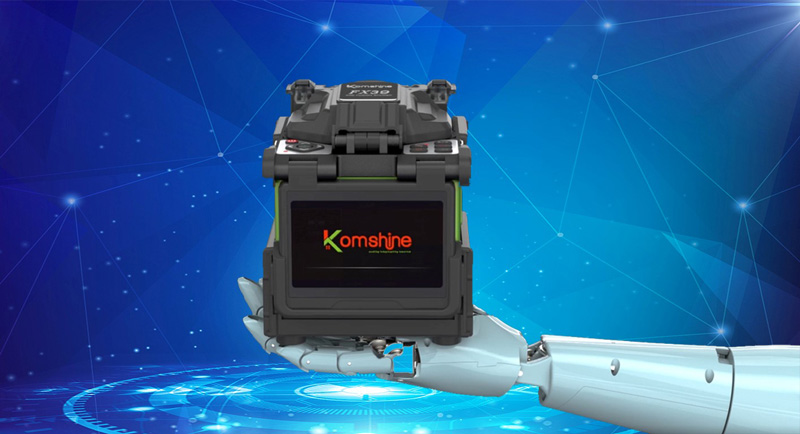 With the sound development of the optical communication industry, integration, small size, and serialization are still the main development trends of future fusion splicers. The original intention of Komshine FX39 six-motor trunk fusion design is to provide you with solutions for the layout and maintenance of large-scale optical cables; Provide cost-effective, thoughtful and meticulous product services, and complete supporting products. In addition, Komshine also has OTDR, fiber end face detector, fiber cleaning and other products for you to choose from. Komshine, a professional manufacturer of optical communications in China, is your ideal partner!