KomShine FX39 Trunk Fusion Splicer arrivals!
With the rapid development of global 5G networks, the status quo of "large engineering volume, few construction personnel and high quality requirements" is becoming more and more embarrassing. How should the correspondent complete the project tasks with quality and quantity? Yes, it means having high-quality, easy-to-use tools. Optical fiber fusion has become the ideal connection method of "high quality and low loss" in the current communication network, and this has to be mentioned-the optical fiber fusion splicer. Faced with a wide range of fiber fusion splicer brands on the market, how to choose the right one? Do you follow the trend? Do you only focus on the appearance and ignore the inside? Do you want to abandon product quality in pursuit of cost-effectiveness? ……In order to better solve the user's troubles, Komshine has launched a new trunk fiber fusion splicer FX39, which integrates appearance, quality, performance and cost-effectiveness.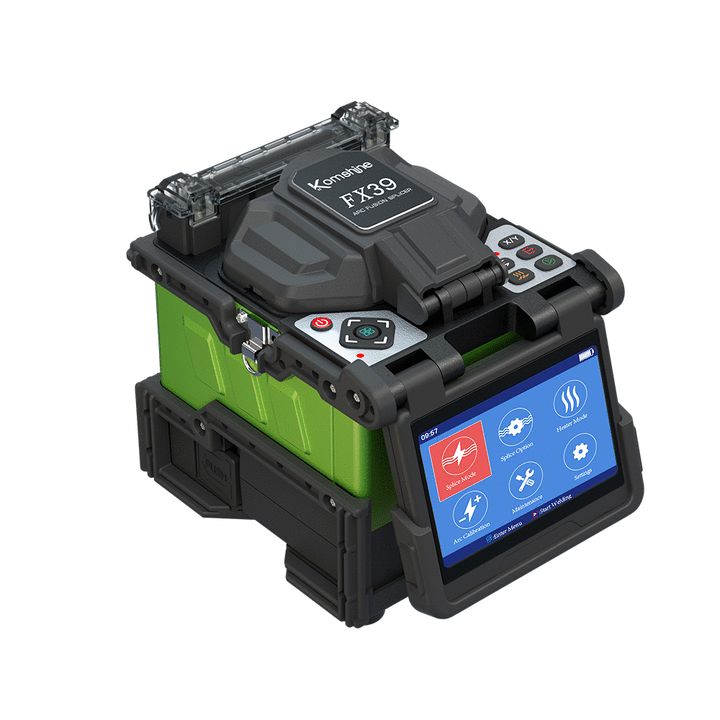 Begins with appearance
The dual-color-blocking body, textured function buttons, novel windshield cover, and layered surface texture, coupled with a 4.3-inch LCD color display, make the overall look very comfortable, simple and atmospheric. What Komshine FX39 delivers to communicators is not only the optical fiber fusion splicer, but also the warmth and care of winter. The good experience of users is always our greatest satisfaction.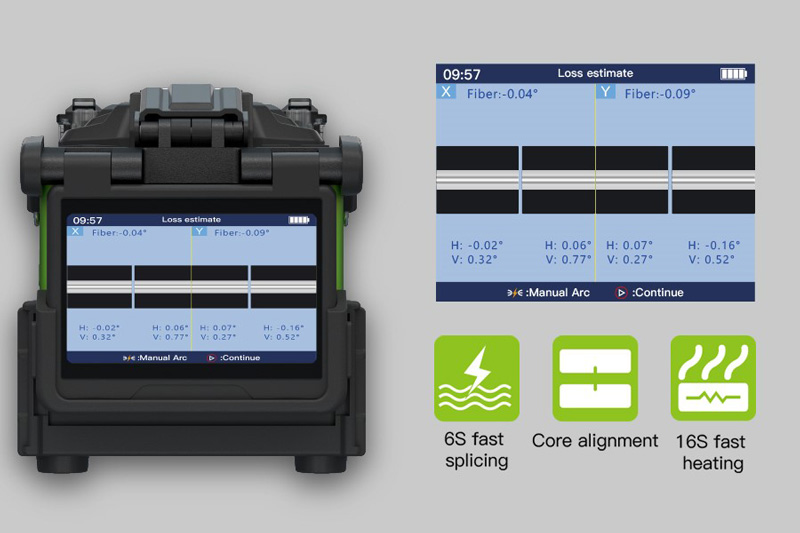 Stuck in quality
Komshine FX39 fusion splicer has built-in imported chips, high-speed processing, synchronous calculation, and extremely fast response, allowing you to enjoy the comfort during the splicing process; adopts a new six-motor positioning technology, equipped with six-motors and precise micro-step guides, compared with four-motors, positioning fusion splicing is smaller in loss, faster in time, and higher in efficiency. Thanks to this, FX39 can not only perform trunk fusion splicing and trunk fiber repair, but also compatible with FTTx engineering.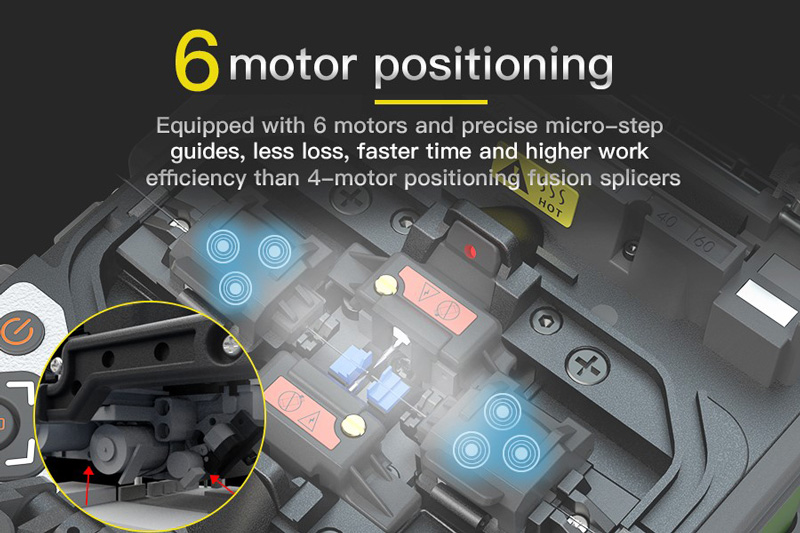 The FX39 optical fiber fusion splicer adopts the industry's advanced core alignment technology, which is currently only supported by Fujikura and Sumitomo fusion splicers, so awesome! The LCD display can provide users with a clear image of fiber core splicing, and the results of fiber splicing can be seen at a glance.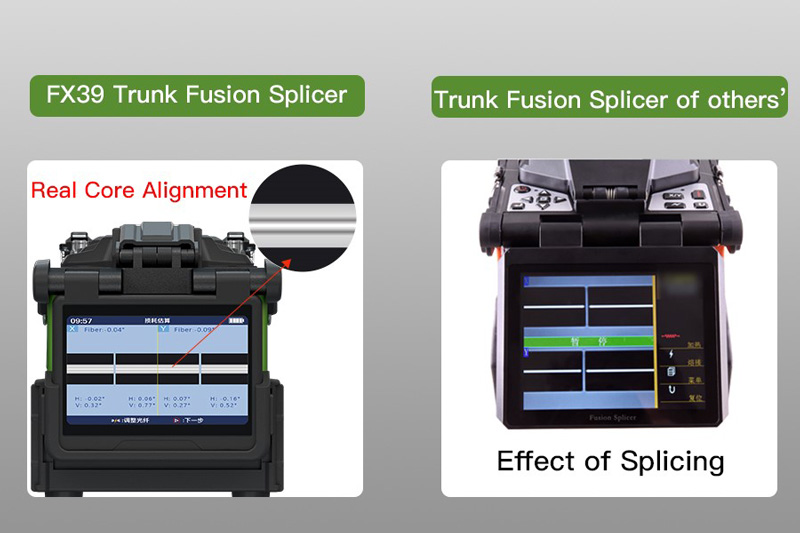 The splicing speed of the optical fiber fusion splicer has been the focus of the communication people. The FX39 trunk fusion splicer has reached 6S fusion splicing and 16S heating performance, which greatly meets the current engineering high-efficiency requirements; stable and durable electrode rods have a service life of up to 5000 times, a new high, which undoubtedly makes the product's use efficiency rise to a new level.
In order to solve the current problem of small battery capacity and fewer splicing heating times for optical fiber fusion splicers, Komshine has invested heavily in research and development. After thousands of trials, the 7800mAh large-capacity lithium battery was officially launched and put into use in the FX39 fusion splicer; when it is fully charged, It can be spliced and heated for 400 times continuously, and a 288-core and 128-core optical fiber cable can be easily completed during outdoor construction. You will never worry about "power off" anymore; at the same time, a new battery design has been added to facilitate users to replace spares. When the battery is on, you can directly check the battery level without connecting to the machine. This product deliberately adds a "PUSH" red button to the battery, and the battery level can be displayed with just one tap.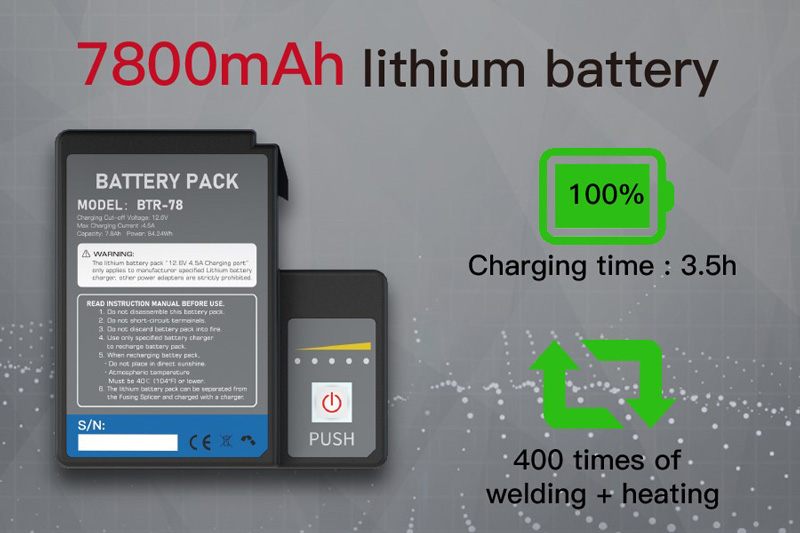 The FX39 optical fiber fusion splicer is equipped with a three-in-one fixture, which is suitable for patch cords, bare fibers, and leather cables. It automatically splices optical fibers during use, which saves time and effort. At the same time, the splicing position is also equipped with LED lighting, allowing you to work in dark conditions. It can also be easily operated.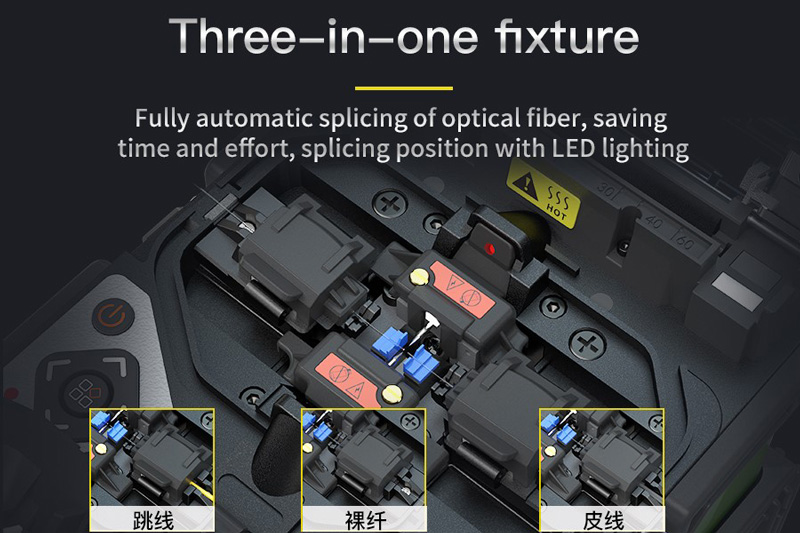 As a precision instrument, the optical fiber fusion splicer is waterproof, anti-drop, and anti-vibration to ensure the safety of the fusion splicer. The FX39 is equipped with a silicone sheath, which is closely attached to the body, fully and effectively waterproof, anti-drop, and anti-vibration.
The variability of the working environment has made it more difficult for our correspondents to work. For this reason, in order to better solve the actual needs of users and better perform fiber splicing operations, Komshine has prepared multi-functional carrying cases for users. Compared with some The fixed slot design (fixed size and shape) of fiber cleavers and Miller pliers in the companion carrying case, the FX39 optical fiber fusion splicer carrying case can not only serve as a splicing platform, but also has a large amount of content, which can be loaded into various brands and models of optical tools, such as fiber cleavers, power meters, VFL, Miller pliers, etc., solve the problem of users wanting to replace multiple brands and models of tools.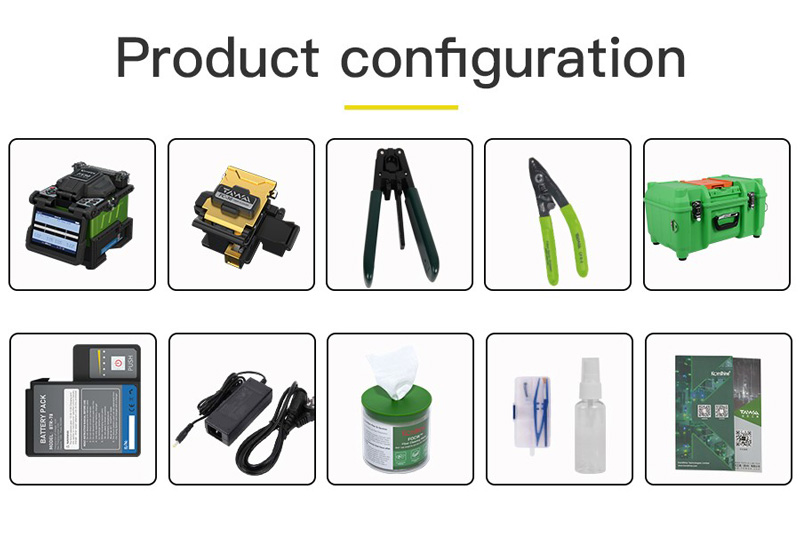 Komshine focuses on optical communication product technology research. As a professional manufacturer of optical communication measuring instruments in China, Komshine has developed a product series focusing on optical fiber fusion splicers, OTDRs, measuring instruments, inspection & cleaning, and its product services cover more than 80 regions around the world. Optical communication network construction and maintenance are providing complete solutions for global users, and are committed to promoting the development of global communications. Komshine, your trusted partner.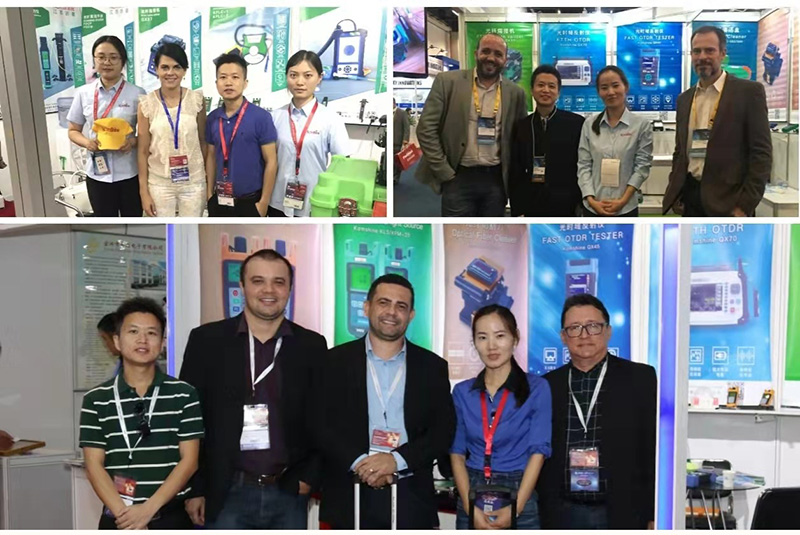 Faced with the brand-new trunk fiber fusion splicer FX39, which integrates beauty, quality, performance, and cost-effectiveness, how can you not love it if you are witty? Let it be your powerful helper!