KIP-600v Optical Fiber Connector Inspector provides effective interface detecting solution
The first reason that leads to the attenuation of optical signal or causes the problems of optical fiber network is the dirt or damage of the end face of optical fiber connector. Therefore, how to quickly and effectively check the end face is the primary problem to be solved; And the portable optical fiber connector detector has become the first choice of field operations and maintenance personnel. KomShine KIP-600v fiber connector detector, provides you with an effective fiber interface inspection program.
KIP-600v fiber connector detector 3.5 inch HD LCD display,avoiding the visual fatigue of long time detection; real time video,support extend TF card, quick check the pollution degree of female connector and male conector.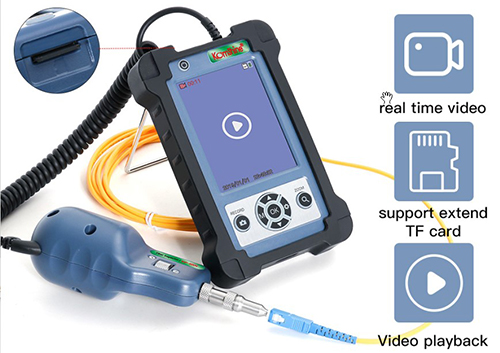 High accuracy and easy to use
KIP-600v resolution(μm)<1μm,moreover, it is ergonomic in design and comfortable to hold. Its roller type focal ring can effectively magnify 400x, and its independent camera button provides users with a simple and clear operating experience.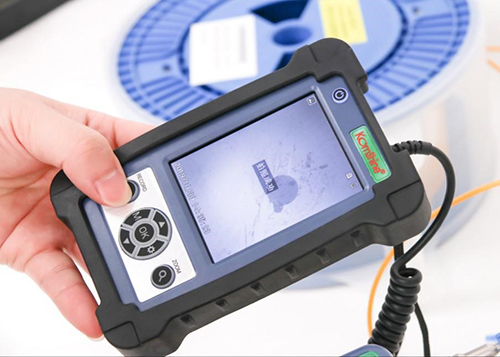 Wide applicability, long standby
KIP-600v support multiple adapters, SC、FC、ST、LC male-connector,SC、LC female-connector;The machine is equipped with large capacity lithium-ion batteries
with a capacity of up to 4000 mAh. Standby time is up to 20 hours, which is suitable for the needs of workers who go out for a long time.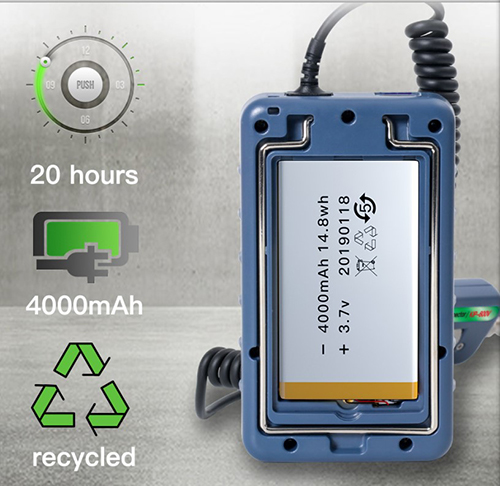 Full protection
Considering the user's use in the actual harsh working conditions, sufficient efforts have been made on the kip-600v protection,removable Silicon Case,reduce the damage by collising or dropping in a certain extent.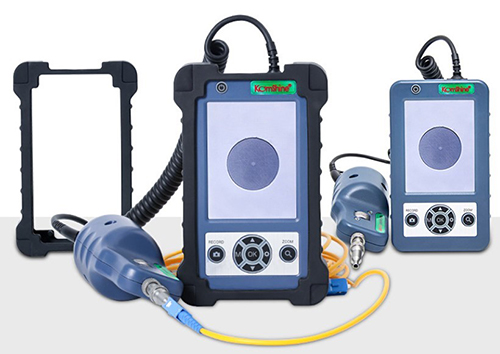 Detachable optical fiber end face detector
KomShine considering the needs of users, a single optical fiber end face detector is introduced. Support USB connector,can used with KomShine OTDR;Connect it to the computer, no need to charge plug and play superiority;By contrast, the optical fiber end face detector is more light and portable, and easy to operate.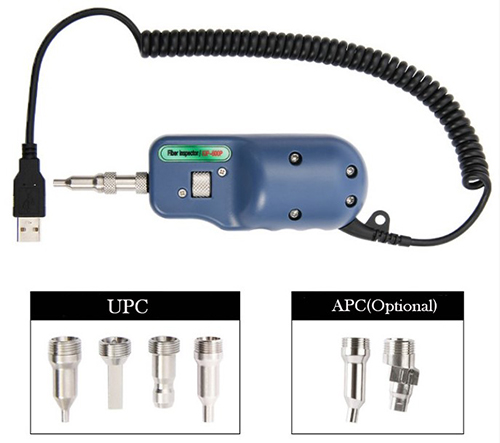 Dust, oil and other dirt on the optical fiber end face, if not cleaned will cause the optical signal to be affected, seriously lead to the threat of the entire optical signal system. Kip-600v provides users with "magic device", so that you can get twice the result with half the effort in optical fiber interface detection, and become your loyal partne on the optical fiber operation and maintenance road.