Intelligent portable optical fiber connector inspection scheme
The first reason that leads to the attenuation of optical signal or causes the problems of optical fiber network is the dirt or damage of the end face of optical fiber connector. Therefore, the fast, lightweight and portable optical fiber end face detector for operational stability detection has increasingly become an indispensable detection tool for technicians in optical communication field
KomShine as a domestic optical communication professional manufacturers, in-depth analysis of the connector detection market, dedicated to solving the needs of users, took several years to develop the KIP-600v hand-held optical fiber end face detector, which can provide users with efficient and fast optical fiber connector detection solutions.

KIP-600v adopts innovative design, the operation of optical fiber connector detection is convenient, quick and good applicability, it has become a fiber troubleshooting, installation equipment test surface, factory products, such as self-inspection multipurpose optical fiber end face detection tools, on the 5G optical network construction process plays a non-replaceable role.
Appearance
KIP-600v ergonomic design, portable and durable; with a 3.5-inch large screen display, enlarges the end face image by 400 times, view the end face image clearly in your hand. Its optical fiber end face detector is comfortable to hold, unique left-right rotation focus button, independent video camera button and end face image magnification button, etc., bringing users a simple and easy-to-use operation experience.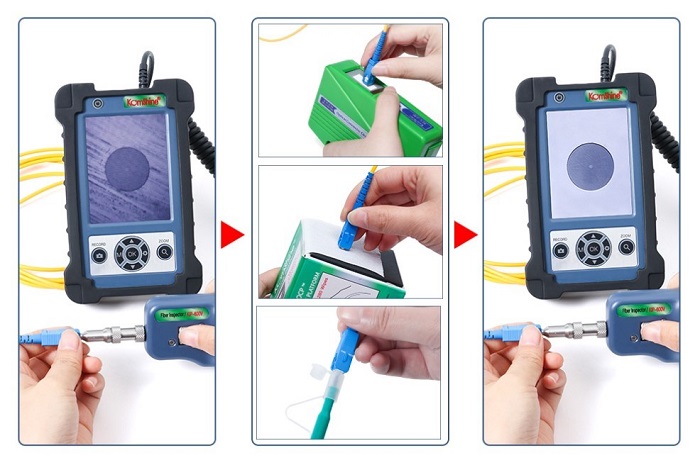 KIP-600v has the metal bracket can be adjusted to 80 degrees of rotation. When in use, it is usually placed on the work table, which is stable and convenient and does not need to hold on the hand.
KIP-600 adopts detachable silicone sheath, split design protection is more comprehensive in place, can reduce the damage caused by collision and fall to a certain extent; KIP-600v is equipped with a 4000mAh recyclable lithium battery with an effective standby time of over 20 hours. It is equipped with a universal USB Type C charging interface, so users don't need to carry a special charging device.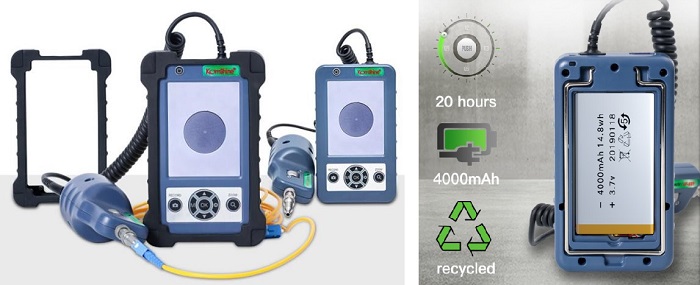 Function
At the beginning of the design, the UPC,APC two types of optical fiber interface were fully considered, which can meet up to 8 kinds of connector end face detection,support UPC's SC、FC、ST、LC connectors and APC's SC connector.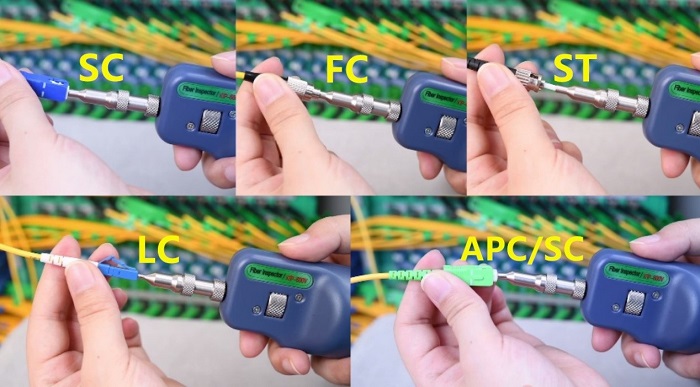 KIP-600v with real-time screen video playback and photo storage functions, users can quickly record and store the state of the optical fiber interface; It can also insert the extended TF card, which can quickly import the saved image data into the computer to share with one key, so as to facilitate the later inspection and data statistics.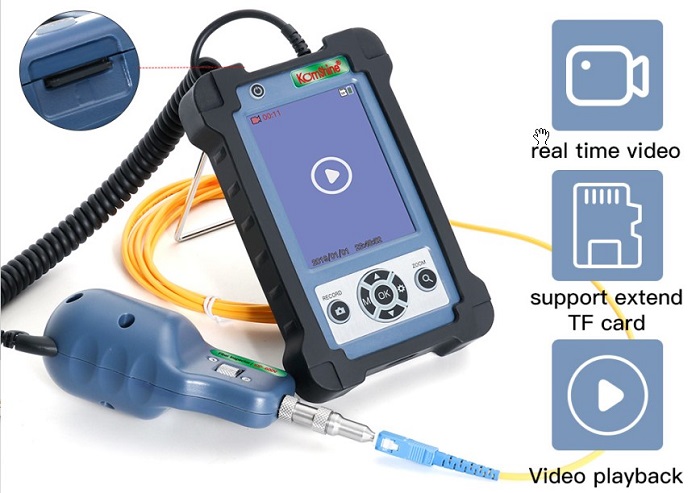 KomShine considering the needs of users, a single optical fiber end face detector is introduced. Support USB connector,can used with KomShine OTDR;Connect it to the computer, no need to charge plug and play superiority; By contrast, the optical fiber end face detector is more light and portable, and easy to operate.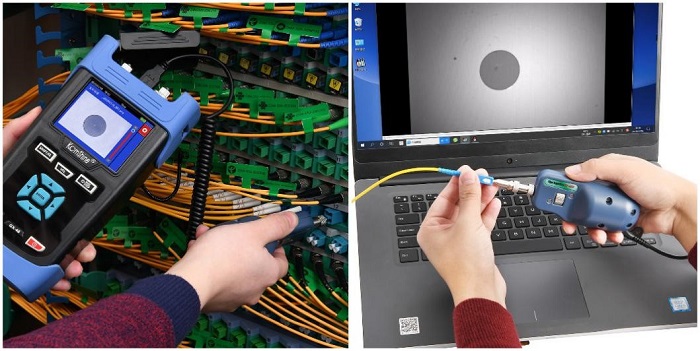 With the acceleration of the construction of 5G network, KIP-600v fiber end face detector has played an important role in various fields. Meanwhile, it also brings users a more ideal fiber end face detection solution.